Jane Hinton, Commercial Real Estate Partner, Hunton Andrews Kurth, Los Angeles.
Hinton is a partner in the firm's real estate practice and focuses on all aspects of real estate transactions including advising lenders and borrowers on complex mortgage financings.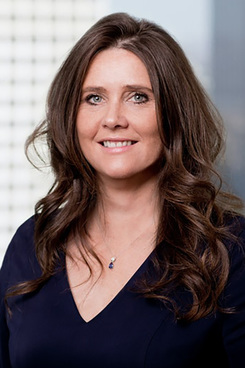 What has been your biggest challenge or obstacle in your profession? Being a woman in any profession is hard. We inherently take on more of the caring and nurturing roles in the home, while trying to do it all at work, and feeling like we are not always hitting the mark anywhere. How the various pieces of life rise and fall/balance at any time should be okay for each individual, but I find as women we tend to be hard on ourselves and strive to be all things to everyone while not taking the "wins" for what they are – awesome accomplishments. Realizing I am sometimes getting in my own way in the pursuit of perfection, and allowing myself to acknowledge that this is good enough, has given me the freedom to put my energy into the aspects that are most important to me and surprise myself with the outcomes.
Where would you say commercial real estate needs to improve for women? There has certainly been an improvement, and we are now seeing women being very successful and in key leadership positions. However, I think we need to continue to remember to bring others to the table to continue to show those who are new to the industry that it can be done. Being mindful of including gender diverse team members will continue to improve the situation.
Additionally, I would also like to see more industry groups consider diversity generally when they collate panels and speakers, as we are still seeing panels of just white men – this is where all of us, including our male colleagues, are able to help by supporting their equally successful women and diverse colleagues in putting them forward and encouraging participation. Seeing diversity in thought leadership will help cement gender and diverse candidates as future leaders.
How can women better position themselves for success ?  In my opinion this comes back to understanding some of our innate gender qualities. Women tend not to put themselves forward for projects and roles when they don't think they are 100% qualified, but we need to remember that no one has 100% of the skills and not be afraid to put ourselves forward. You have to be in it to win it, and pushing through those self-doubts, while hard, will give women access to more opportunities.
Do you have any advice specific for the next generation? Just say, "yes I can" and worry about how later. Obviously there are limitations to this, including having the actual time to complete the tasks, but I have found as mentioned above, when I put myself into a situation I am not 100% comfortable with, I often am surprised by the outcomes and successes achieved.
Covid-19 is testing the mettle of every leader in the CRE community right now. What, in particular, can women bring to the table as the industry continues to grapple with this crisis? Since the crisis began and we are under a stay-at-home order, I have been personally using the time and technology to ensure my team remains connected and in communication whether by hosting additional office meetings by Zoom, or hosting social events. Providing support and outlets for connection are key while we are still working out what the new office environment will look like, which in my opinion will include a lot more openness to remote working.