It's no secret the COVID-19 pandemic has caused many changes to the commercial real estate industry. In a recent article, CREXi took a look at how long different transactions across the CRE industry stayed on the market to provide better insight into just how the pandemic has shifted the industry.
The results are telling.
CREXi reports that in March and April, at the peak of the pandemic, market transaction volume fell by 42%. As businesses started to open in June, activity seemed to resume. By July, transaction volumes had steadily increased. But, as the company stated, that's only part of the story. When trying to gauge a sector's health, one should look at a specific metric: how long does it take for a deal to close?
After looking at marketplace data from the company, CREXi states it's important to look at where the market was in Q4 2019 before COVID in order to draw some conclusions on where it's headed. In Q4 2019, inventory was sitting on the market at the same rate or faster than previous quarters. A trend that CREXi attributes to buyers and sellers wanting to close deals by the end of the fiscal year.
Fast forward to March 2020, and there's a 15-20% increase in the average amount of days properties were sitting on the market. This was true for all property types, which you can see in the image below.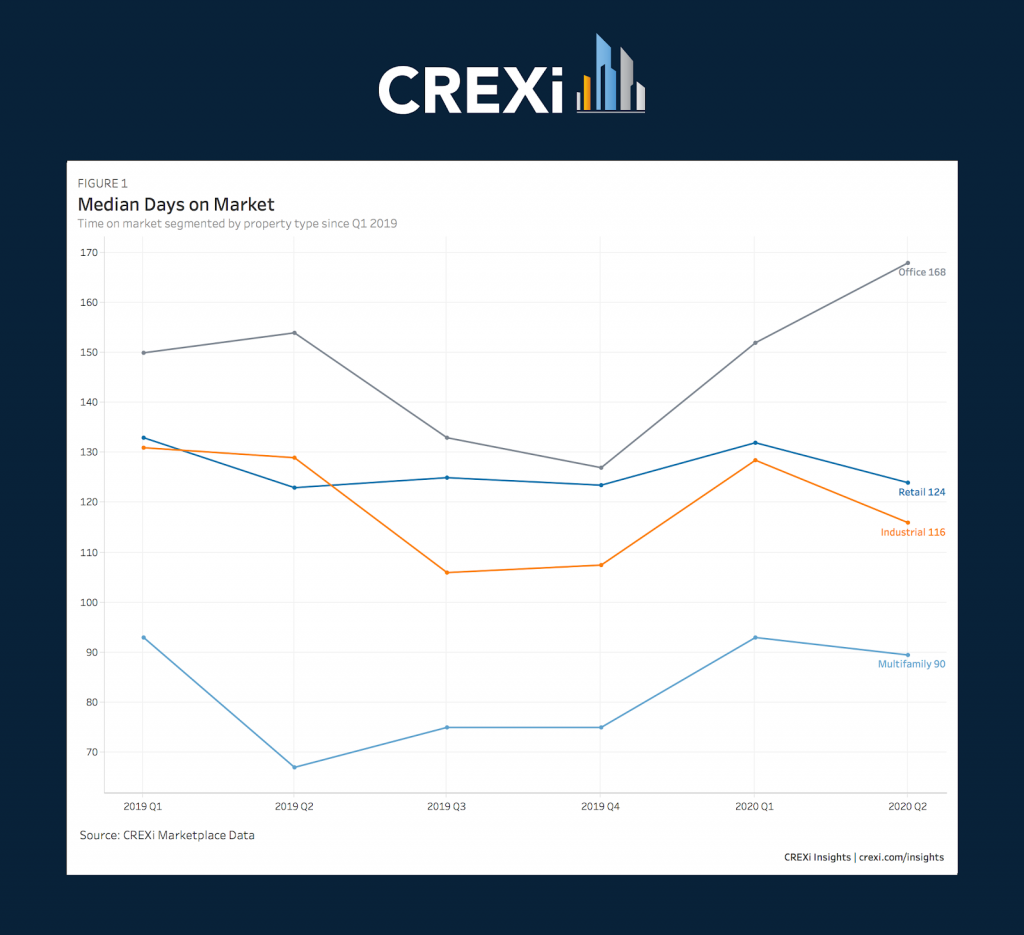 From Q1 to Q2 2020, the median amount of days an office property was sitting on the market went from 152 to 168 days. At the end of Q2, many companies were shifting to a remote workforce and the future of offices was unstable. The continued increase of time can be attributed to the changes such as social distancing that comes with returning to offices while the pandemic is still going on.
One more positive outlook CREXi pointed out is that medical offices "have served as the vanguard for the asset class, particularly as public interest in health and wellness surges," the company stated.
Multifamily was another asset class that had an interesting outlook. While the median days a property was sitting on the market went from 78 to 90 days, it's an asset to watch says CREXi. More people are moving to the suburbs and away from crowded urban cities so investors may be changing which markets to invest in in the future.
CREXi also mentioned that because we're seeing a migration to the suburbs, it's key to keep an eye on co-working and smaller decentralized office units.